Notes From The Tilt-A-Whirl: Wide-Eyed Wonder in God's Spoken World by N.D. Wilson is a wild ride. To be fair, the preface warns the reader with such injunctions as "This book does not go straight," and "I've forgotten to include seat belts, and I don't know where I left the liability waivers."
The narrative weaves erratically through reflections on philosophy, quantum physics, wasp villains, and Shakespeare in a stream-of-consciousness format. Interspersed throughout are meteorological observations, insights on everyday life, and stories from the kingdom Animalia. "Have you ever heard a rabbit scream?"
In the chapter titled "The Problem of Evil and the Nonexistence of Shakespeare," Mr. Wilson deals with the sobering reality of evil. God is the great Artist, and there is black paint in the world. "How can this Artist be good?" The Christian apologetic is presented here in a rambling, poetic style influenced by C.S. Lewis and G.K. Chesterton, and the result is truly a work of art. Notes From The Tilt-A-Whirl is different; it reads with a unique style that well captures the depth and vibrancy of creation, and being thought-provoking while at it. I highly recommend this book, and I think every Christian should read it.
Note (no pun intended) that Mr. Wilson employs a few words that some might find offensive. For some thoughts on Christians and what might be called "strong" language, check out these older blog posts here and here.
True to the title, Notes From The Tilt-A-Whirl takes the form of notes from life, expressing the wonder of God's world. God's spoken world. One theme that runs through the book like a thread (and there are many) is that of words. Everyone is given a part in God's story.
"Our Maker waits. He would have a conversation. What words will we have? We need only one, the One who spoke us."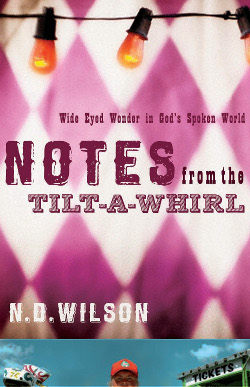 Hope you liked it. If so, maybe share it, comment, or link. Many thanks.